Jack Bush
JACK BUSH was born John Hamilton Bush in Toronto, Ontario, Canada in 1909. His youth was spent in Montreal, Quebec where he studied at the Royal Canadian Academy under the instruction of Adam Sheriff Scott and Edmond Dynnet.
During the 1930's he operated a graphic art studio by day and attended night classes at Ontario College of Art with instruction from Fredrick Challener, John Alfsen, George Pepper, Charles Comfort and J.E.H. MacDonald. Like many Canadian artists of the time his work was sheltered from international influences. Bush developed his approach to abstraction through visits to New York City and Montreal. He became influenced by the American Abstract Expressionists, the ideas of John Lyman and the work of the Montreal artists "Les Automatists".
From 1953-1960 he was a member of the Painters Eleven group of abstracts artists founded by William Ronald to promote abstract painting in Canada. He was praised and eventually mentored by the American art critic Clement Greenberg. It was Greenberg who encouraged Bush to refine his technique and approach which eventually tied his work with the two movements born from Abstract Expressionism; Color Field Painting and Lyrical Abstraction.
In 1968 he received the Guggenheim Fellowship for Painting in Canada and the John Simon Guggenheim Memorial Foundation Fellowship. In 1976 he received the Officer of the Order of Canada and the Art Gallery of Ontario showcased a large retrospective of Jack Bush. He died in Toronto in 1977.
1909 Born in Toronto, March 20
1926-28 Studied in Montreal with Edmund Byonnet and Adam Sherriff Scott
Studied in Toronto under Frederick Challener, John Alfsen and Charles Comfort
1940-64 President : Canadian Society of Painter is Water Colour
Member: Ontario Society of Artists
Associate: Royal Canadian Academy
Member: Canadian Group of Painters
Member: Painters Eleven (1953-58)
Member: Art Directors Club, Toronto
1964 Resigned from the above societies
1965 Visiting Artist, Michigan State University
1968 Visiting Artist, Cranbrook Academy of Art Bloomfield Hills, Michigan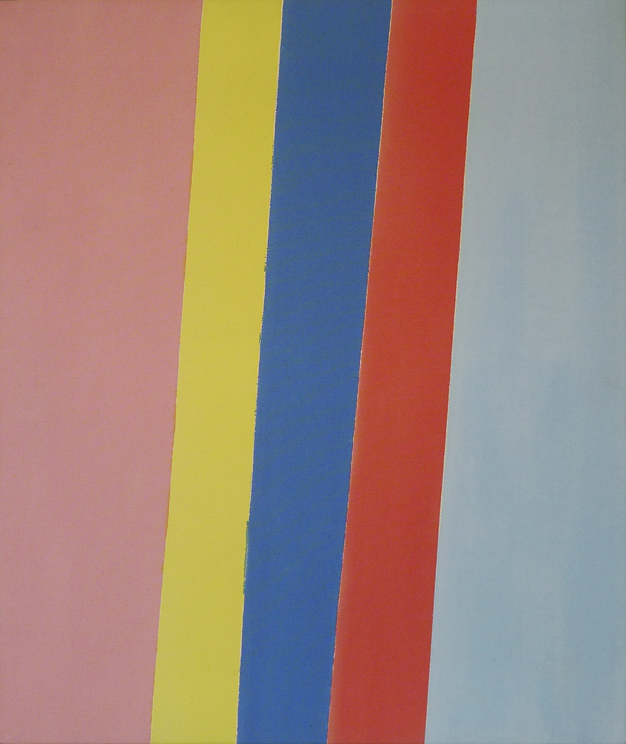 Jack Bush : Centre 3, 1968, acrylic on canvas, 31.25 x 26.5 inches